Infinity Skies: Token launch + Demo
Primer: This article will cover the recent launchpads for the $ISKY tokens of Infinity Skies, including an ongoing one under DAO Maker. There is also a rumour regarding the release of the offline build demo happening very soon. Likely this week.
Introduction
There are so many updates in Infinity Skies that many people, including us, are busy playing catchup. Let's try to cover as many of these developments as possible. In this article, we'll be covering 2 major events about Infinity Skies. We strongly suggest joining the Infinity Skies Discord server because there is just so much stuff happening over there. Alpha is literally dripping off every conversation.
If you're new to this, or can't remember what Infinity Skies is all about, do visit our past articles here:
All eyes on Infinity Skies :

CRE8RDAO Interviews Marc from Infinity Skies:

Qi Podcast #16: Infinity Skies - A Play-to-Earn Crypto Sandbox Game to Build, Adventure, Trade & Socialize:
Right, with that out of the way, let's take a look at the roadmap.
The year 2021 flew past and we're now going towards the 2nd week of January. This is an exciting month for Infinity Skies because of these 2 main events:
Token Release (IDO)

Offline Build Demo
Token Release (IDO)
There had been 2 launchpads for the Infinity Skies token, $ISKY, that were launched very recently on Polygon Network. One is by Chainboost which started on the 6th Jan 2022. We didn't take part in it because of geographical restrictions, and frankly, we thought that there's just too many hurdles for this one.
🌟 REGISTRATION 🌟 To sign-up for the

@Inf_Skies

IDO on

#ChainBoost

, users must: 🎈 Complete KYC for
ChainBoost.io
🟢 Express Interest at
chainboost.io/projects/infin…
🎉 Register before 1.5.2022 | 3:00 PM UTC Want help registering? 👇
tinyurl.com/RegisterChainB…
The second launchpad is by NFTb, which just ended on the 9th Jan 2022. Again, there were geographical restrictions preventing US citizens from participating, among other countries. This one had a private pool and a public pool, with 90% of the allocation in the launch given to the private pool. The private pool is for those people who had NFTB tokens and staked them. Like other launchpads, the allocations are tiered such that the more NFTB tokens held and staked, the larger the max allocation.
Both launchpads had been hugely successful. All of them had been sold out. The actual claiming of the tokens from both launches will only start on the 13th Jan 2022 though, which is the TGE. I think from what we've seen from the Discord, not many managed to get allocations from the public pool. So yes, the idea of building castles in the sky is that hot!
Does it mean that we're too late?
No! There's a 3rd launchpad, which in our opinion, is the best. It's by DAO Maker. Read the tweet here:
Infinity Skies - Research Page In Infinity Skies, players will build, socialize, trade, and undertake numerous adventures. Research Full Page👇
daomaker.com/company/infini…
- Public SHO Starts on 6th of January. - DAO SHO Starts on 10th of January. Website:
infinityskies.io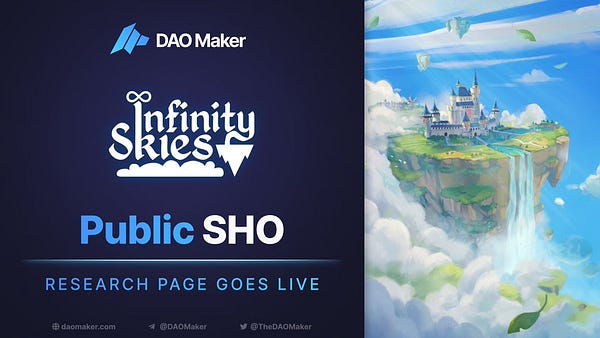 This is an interesting launchpad because of their SHO concept - Strong Holder Offering. There are two offerings: PUBLIC offering and SHO.
The PUBLIC Offering allows any KYC Participant with more than $6000 USD worth of tokens in their wallets to participate in Coin Offerings on DAO Maker. PUBLIC offerings can be compared to Freemium access. By staking DAO, users can unlock Premium Accounts to join SHOs that have a higher winning chance and larger allocations. Users that are staking DAO tokens can also join PUBLIC SHOs, their staked DAO counts as assets.
The main difference between the two is that the winning chance for DAO SHOs is higher as there are fewer participants and the fee structure.
Your chances of being allocated really depend on your score, out of a max of 100. This score determines how likely you are to be selected for allocation from the offering.
Score breakdown:
Total Asset Score (up to 50 points)

For every $10,000 USD worth of tokens in the wallet from Ethereum, Avalanche, Binance smart chain, Fantom and Polygon Network will get 0.1 points, up to a max of 50 points

DEFI score (up to 20 points)

For every $10,000 USD worth of tokens interacting with DeFi protocols, users will receive 1 point, up to a max of 20 points

DAO ecosystem score (up to 20 points)

Having $10,000 USD worth of these tokens will provide users with 1 point.

Xcad Network ($XCAD), Numbers Protocol ($NUM), Gamefi ($GAFI), Opulus ($OPUL), NFTrade ($NFTD), Orion Money ($ORION), Goldfever, LossLess ($LOSS)

PUBLIC offering partner (up to 10 points)

The PUBLIC Partner is a large coin that will provide up to 10 points if users hold or stake this token in their wallet. Users will receive 0.5 points per $10,000 USD worth of PUBLIC Partner token.
More details of the public sale, including the personal allocation, price of token and vesting schedule can be seen here:
Offline Build Demo
This is the part that everyone's been waiting for. There had been a few teaser videos of how the castle building part looks like.
Feels a little like SIMS, where you can rotate furniture and arrange them in different orientations to place them in the way you like it. You can build walls and place windows on the walls, or construct different floors. Have you seen an NFT play to earn game that is like this? Not us.
So when will they release the build demo? We believe it's going to be sooner rather than later. Likely this week.
Take a look at this tweet reply by Sander Dijkens, CTO of Infinity Skies.
And what's happening on 13th Jan?
13th Jan 2022 happens to be the TGE of $ISKY. It could be a troll comment because technically, he didn't mention which year. But we don't believe in coincidence.
LinkTree: https://linktr.ee/Infinity_Skies